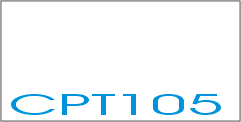 CPT 105
Franklin College
Erich Prisner
Creating an
Animation
Animations can be created using Flash, but we use Corel Draw and an Animation program to get an animated GIF.
Blending
...
Exporting
To export a corel draw picture into a different (pixel-based) format, select the part of the picture you want to export (or select nothing if you want to export the whole thing) and choose the menu "File-Export ...". Select the graphics format you want to export to, "gif" or "jpg".
Assembling an animation
...
---